Movie/tv News
No Time To Die: Every Major Cast Member's Best Movie, According To IMDb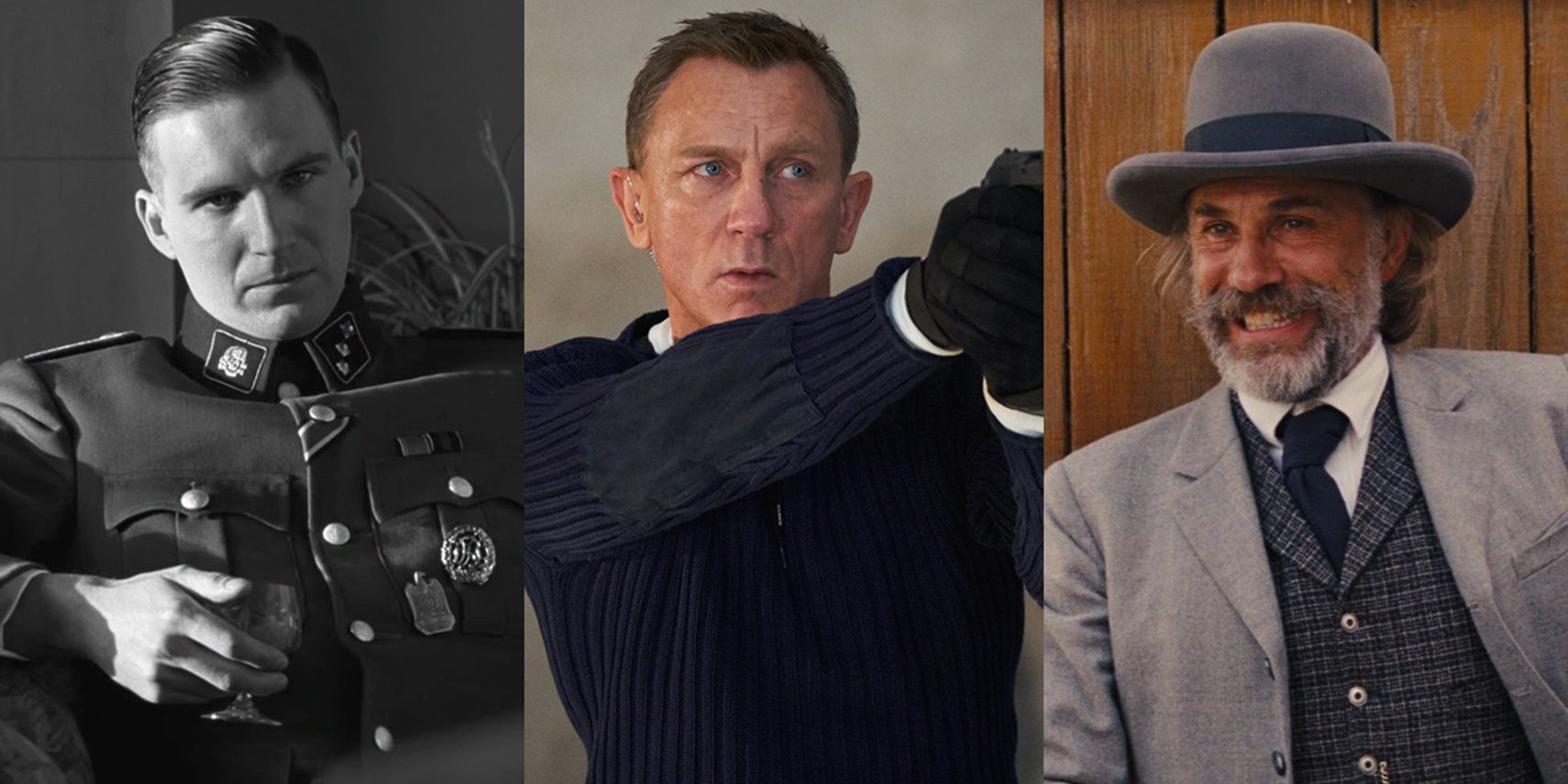 Daniel Craig's fifth and final outing in the role of James Bond, No Time to Die, has been praised as a fitting conclusion to the actor's stint in the 007 franchise. Alongside its impressive action sequences and surprising emotional resonance, No Time to Die has an incredible cast.
RELATED: 7 Biggest Surprises In No Time To Die
Backing up Craig, No Time to Die's supporting players include both familiar faces like Ben Whishaw as Q and Naomie Harris as Moneypenny and newcomers like Captain Marvel's Lashana Lynch as the new 007 and Craig's Knives Out co-star Ana de Armas as a hilariously reckless CIA agent.
10

Daniel Craig – Casino Royale (8.0)
While the serialized elements of Spectre were controversial among Bond fans who enjoy the franchise's traditional episodic style, No Time to Die wrapped up the ongoing Daniel Craig 007 narrative in a hugely satisfying way. Craig's five-movie Bond tenure now holds together as a complete work. No Time to Die felt like the grand finale of the story that began with Casino Royale, Craig's highest-rated movie on IMDb.
After the critical panning of the Pierce Brosnan movies and the spoofing of the Austin Powers series threatened to kill the Bond franchise altogether, Casino Royale came along to save 007 with a refreshingly gritty origin story that completely reinvented the character.
9

Léa Seydoux – Inglourious Basterds (8.3)
Traditionally, a "Bond girl" will only appear in one movie, but No Time to Die brings back Léa Seydoux's Dr. Madeleine Swann from Spectre. The romantic subplot of No Time to Die is surprisingly emotional, as Bond rejects Madeleine on the unfounded suspicion that she betrayed him, and then, years later, she introduces Bond to his daughter.
RELATED: 10 Best Inglourious Basterds Scenes That We Still Think Of Today
Seydoux's highest-rated movie on IMDb is Quentin Tarantino's darkly comic war epic Inglourious Basterds. She only has a minor role, but it's in easily the movie's greatest scene. Seydoux plays one of the French dairy farmer's daughters in the ridiculously intense opening interrogation. Her No Time to Die co-star Christoph Waltz won an Oscar for playing Hans Landa, the S.S. colonel handling the interrogation.
8

Ben Whishaw – Paddington 2 (7.8)
Daniel Craig's younger, more inexperienced take on Bond was complemented by Ben Whishaw's younger, more inexperienced take on Q. Since his introduction in Skyfall, Whishaw's Q has given Craig's Bond such awesome gadgets as a handgun tailored specifically to his fingerprints and a wristwatch that blows up bionic eyes.
Whishaw's highest-rated movie on IMDb is Paddington 2, in which he voices the titular marmalade-loving bear. Both Paddington movies have been widely praised by critics as good, wholesome fun. They each have near-perfect scores on Rotten Tomatoes.
7

Naomie Harris – National Theatre Live: Frankenstein (8.6)
Naomie Harris' turn as Moneypenny was one of the most subversive things about Craig's Bond movies. Introduced in Skyfall, Harris' Moneypenny isn't a secretary stuck behind a desk; she's a field agent who gets in on all the action.
Harris' highest-rated movie on IMDb isn't actually a movie. It's a filmed version of the National Theatre's production of Frankenstein, which reunited Harris with 28 Days Later director Danny Boyle. Benedict Cumberbatch and Jonny Lee Miller play alternating roles as Victor Frankenstein and his monstrous creation, while Harris co-stars as Victor's fiancée, Elizabeth Lavenza.
6

Ralph Fiennes – Schindler's List (8.9)
Ralph Fiennes took over as the new M to Craig's Bond when Judi Dench's incarnation of the character was killed off in Skyfall. In No Time to Die, Fiennes' M is surprisingly revealed to be responsible for the villain's deadly bioweapon – although he initially developed it with good intentions.
The top-rated film of Fiennes' prolific career on IMDb is Steven Spielberg's Schindler's List, a black-and-white epic capturing the widespread tragedy of the Holocaust. Fiennes gives a haunting turn as the villainous Amon Göth.
5

Ana De Armas – Blade Runner 2049 (8.0)
After starring alongside Craig in Knives Out made her one of the most recognizable movie stars in the world, Ana de Armas was expected to have a large role in No Time to Die. She ended up only appearing in one sequence, but she made a lasting impression with limited screen time as she nailed all the comedic moments.
RELATED: The 10 Best Characters From The Blade Runner Movies
De Armas' top-rated movie on IMDb is Denis Villeneuve's Blade Runner 2049, which achieved the seemingly impossible feat of following Ridley Scott's groundbreaking masterpiece Blade Runner in a satisfying way. De Armas plays the A.I. girlfriend of Ryan Gosling's Officer K in the belated sequel's most heartbreaking subplot.
4

Rami Malek – Short Term 12 (8.0)
Rami Malek's performance as the villainous Safin in No Time to Die offers a refreshingly downplayed counterpoint to the usual over-the-top portrayals of Bond baddies.
The actor's highest-rated film on IMDb is the indie drama Short Term 12, whose director Destin Daniel Cretton recently boosted his profile with the Marvel blockbuster Shang-Chi and the Legend of the Ten Rings. Malek starred alongside Brie Larson, Kaitlyn Dever, and Lakeith Stanfield.
3

Lashana Lynch – No Time To Die (7.6)
After Bond retires at the beginning of No Time to Die, Lashana Lynch is introduced as the new 007, Nomi. She's not yet as experienced as her predecessor, but she's shown to be just as competent (with both espionage operations and quippy one-liners).
Lynch's highest-rated movie on IMDb is actually No Time to Die itself. A close second is Captain Marvel, in which she played Carol Danvers' best friend Monica Rambeau.
2

Billy Magnussen – The Big Short (7.8)
Billy Magnussen plays a small but pivotal role in No Time to Die as Logan Ash, Felix Leiter's CIA sidekick who Bond accuses of smiling too much. Magnussen plays Ash as an inconspicuous goofball, so his betrayal resulting in Felix's death comes as a real shock.
The actor's highest-rated film on IMDb is the satirical financial drama The Big Short. After making his name with broad comedies like Anchorman and Step Brothers, The Big Short allowed Adam McKay to break into the pantheon of Oscar-winning dramatic filmmakers.
1

Christoph Waltz – Django Unchained (8.4)
Christoph Waltz reprised his role as the Bond franchise's big bad Blofeld in No Time to Die. After taking center stage in Spectre, he had a much smaller role in No Time to Die, appearing on-screen in just one scene in which Bond interrogates him in his prison cell.
Waltz's highest-rated movie on IMDb is Quentin Tarantino's blood-soaked spaghetti western Django Unchained. Waltz won his second consecutive Tarantino Oscar after Inglourious Basterds for playing Django's dentist-turned-bounty hunter sidekick Dr. King Schultz.
NEXT: Ranking Every Major Action Sequence In No Time To Die

Next
The 10 Best Relationships in Spider-Man Comics, Ranked

About The Author
Share this news on your Fb,Twitter and Whatsapp